A MESSAGE FROM COREY DUTEAU, RPh
My wife Kelly and I are lifelong Vermonters. We started Freedom Pharmacy in 2014 with a mission to take the worry and hassle out of medications. Our team of pharmacists and technicians is dedicated to improving the health and quality of life of our customers. We take pride in being a great place to work, with a positive company culture and low staff turnover.
We are located in a state-of-the-art facility in Williston, VT. We service all of Vermont, New Hampshire and New York. We reach people either by local delivery, courier or via the United States Postal Service. In fact, the USPS comes right to our door each night to pick up the mail from us because they know how important our patients are!
We'd love to talk with you about our easy, time-saving way to manage your medications.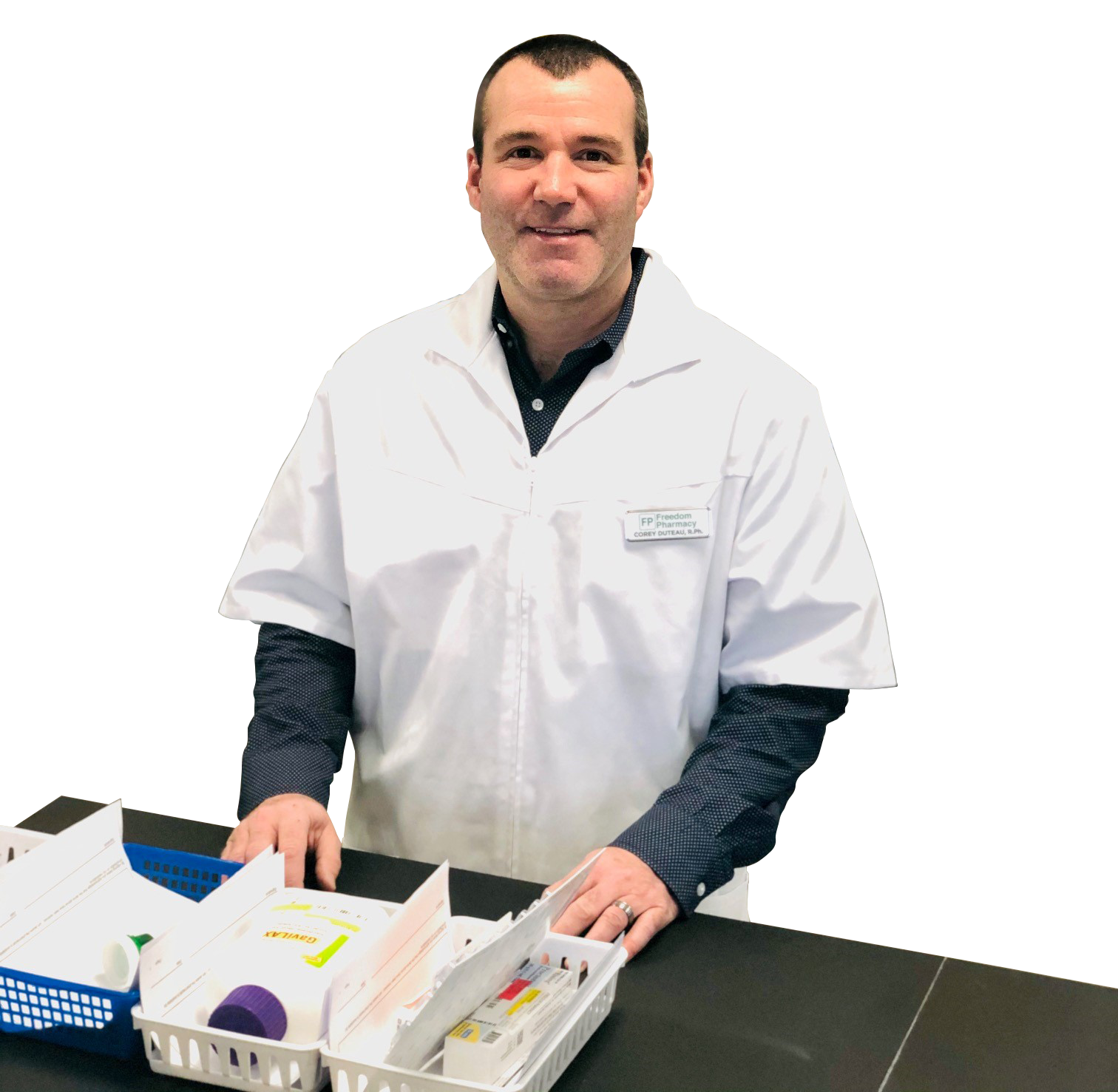 We have a simple mission, which is to provide each of our customers with their own personalized medication management program. We help our patients take control of their lives by listening, learning and working together with their physicians to achieve each patient's unique goals. Medications/prescriptions are meant to improve ones ability to live and enjoy life, not complicate it or weigh it down.
We adopted multi-dose bubble packs (also referred to as blister packs or Medicine-on Time) to help our customers simplify complex medication regimens. Freedom Pharmacy synchronizes each of our patients medications regimens. The benefit of synchronization allows our patients to gain valuable time back by not from having to go to the pharmacy multiple times each month for their prescriptions. Our job satisfaction comes from knowing we give our customers the gift of time—freedom to spend it enjoying family, friends, work and hobbies.
Freedom Pharmacy is committed to providing you with superior customer service and quality of its products/ services. We employ dedicated, enthusiastic and talented pharmacists and technicians.
• Individuals (at home)
• Caregivers
• Assisted Living Facilities
• Group Homes
• Mental Health Clinics
• Alzheimer's Homes
(Memory Care)
• Independent Living
Communities
• Senior Housing
• Enhanced Residential Care
"Freedom," exactly what your name says. I don't have to run every month to get my medications, I just have to walk out and check my mail! That's it! I get them usually a week to a week and a half early, so I never run out."
Morris A., Alburgh, VT
"Great pharmacy, so glad I switched!"
Karen G., Winooski, VT
"When the US Postal Service lost my
bubble pack order, I was in a panic!
But your pharmacy team was able to get lost overrides and reissue all my meds in less than two hours. Thank you! I was and am so grateful."
Amanda S., South Burlington, VT
"Great customer service...everyone is very friendly and understanding."
Jackie R., Burlington, VT
"I wouldn't ask for a more superb
pharmacy staff to work with."
Robert T., Tuckahoe, NY
"Freedom has the most efficient and user friendly bubble-pack packaging."
Wendy P., Burlington, VT
"Your delivery man is polite and pleasant with Mom and Dad. They have been truly happy with this service. I thank you from the bottom of my heart."
Anonymous, South Burlington, VT
"Freedom Pharmacy has completely
revolutionized the way I manage my
medications, as well as my health."
SarahBeth Q., Essex Junction, VT
"We are so happy to be a part of
the Freedom Pharmacy family!"
Karen and Rick T.
"My medication is always on time."
Elbert D., Burlington, VT