Expertly prepared by your team at Freedom Pharmacy, each personal pill cup contains the exact pills you need to take—each cup is labeled with the precise time to take them. Whatever your prescription, our state-of-the-art software tracks your meds and puts the right dose at your fingertips.
Your multi-dose bubble packs come perfectly organized in color-coded (optional) calendar cards. You'll love the familiar and easy to follow system for dispensing your medications at home. It's also convenient and travel compliant!! Remove a single dose or several for peace of mind when you're away from home.
No more racing to the pharmacy or going multiple times a month because your prescriptions are not refillable at the same time. No more waiting in line at the pharmacy just to find out your prescription is not ready. Here at Freedom Pharmacy, we work with all your physicians and insurance companies to synchronize your refills. We schedule delivery of your next package well in advance, so you never need to fret about running out.
Our multi-dose bubble packs are more convenient and safe than a collection of pill bottles. We pre-sort your prescriptions for daily dispensing, right down to the hour. Color-coded packs and automatic refills let you take your meds as directed. No more checking refill dates, opening bottles, filling pill boxes, anxiety about what to take, or wondering if you took your last dose. Easy-to-dispense calendar packs are tailored to your medical regimen, and come in a convenient 28-day supply.
We include over-the-counter medications (like baby aspirin), supplements and vitamins in your multi-packs. We also stock insulin, inhalers, incontinence supplies — whatever pharmacy items you require are in your regular delivery order.
Just like over-the-counter meds, you can include any supplements you need right in your bubble packs.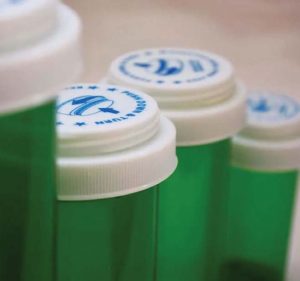 Sometimes a prescription has to be delivered in a vial, which is no problem. We carry traditional pharmacy packaging, known as vials or pill bottles. We have safety and non safety caps available up to a 90-day supply if insurance allows it. This will be part of your automatic delivery each month!
Home delivery at no extra cost
As a "closed door" pharmacy, we deliver all your meds directly to you. You enjoy freedom from multiple trips to the drug store, and from worry about when refills are due. Plus, there's no exposure to other customers who may be ill.
Caring Culture
You talk to a live person when you call Freedom Pharmacy. We stay in close touch with your medical team, and our delivery drivers have time to check on customers.